Growlers To Go Are Available on Sundays
FLAGSHIP BEERS  (Available Year Around)
Big Island Blond Ale- 33 IBU, 5.5% ABV
A light-bodied, approachable ale with a perfect balance of malt and hops, accented by a subtle citrus flavor and aroma.  The perfect every day beer.  A patio pounder.
Soft & biscuity
Smooth without harsh bitterness
Moderate citrus hop flavor
Easy drinking, approachable
Bridge Jumper IPA- 67 IBU, 7.5% ABV
A malt-forward IPA dry hopped with a shipload of raw, whole hops. This IPA defines "extreme balance". Malty sweetness on the front end with a huge hop bitterness to finish clean.
Hints of Papaya, Passion fruit, lots of floral hops
Dry hopped with nearly ½lb of Chinook hops per keg
Nice hop bite with no sharp, lingering bitterness
Smooth mouth feel
Bitteschlappe Brown Ale- 25 IBU, 6.8% ABV
Our traditional Munich-style brown ale features a medium body, with brisk carbonation and a malty sweetness that carries the beer to a soft finish.
Medium-bodied, smooth, dark ale
Flavors of caramel, toffee, and cocoa in the finish
Robustly malted with lots of Vienna malt, lightly hopped with German hops
Very easy drinking—brown is a color, not a flavor
XLCR American Pale Ale- 50 IBU, 5.8% ABV- Now with ALL American Hops!
An amber-colored American pale ale that combines a moderate, pleasant floral hop aroma with a satisfying malt sweetness from specialty malts.
Substantial malt presence
Beautiful flavorful body and floral/hoppy nose
Refreshing, with the malt balancing the hop bite
Moderate mouth feel
OFF SHORE SERIES (Seasonal's) - Larger batches made once per year
Mr. Jimmy's Baltic Porter – 23 IBU, 7.8% ABV (12oz pour)
In honor of Jimmy Hutmaker, Excelsior's legendary ambassador, we made a traditional Baltic porter, conditioned on cherry wood. Brewed with licorice root, this beer features a pleasant sweetness, blending perfectly with the wood flavor, making this a perfect autumn beer.
'Spresso Coffee Milk Stout- 25 IBU, 4.6% ABV (12oz pour)
Made with coffee from UP Coffee Roasters this brew has the nose of a chocolate covered espresso bean. Let it pour over your tongue as notes of espresso and dark chocolate tantalize your taste buds. This one is NOT to be missed! Coffee lovers, chocolate lovers, beer lovers- everyone will love this brew.
Lumpy's Lager– 18 IBU, 5.5% ABV
Minnesota's own Tim 'Lumpy' Herron has proven he's an everyman, bringing a fan's enthusiasm and a focus on fun to the game of golf. His tribute lager matches his personality, combining simple ingredients into an approachable American original. Lumpy's Lager pairs perfectly with an eagle or a birdie and even tastes great with a bogey.
Sunburn Cherry Wheat – 18 IBU, 4.4% ABV
This slightly pink, tart cherry Hefeweizen is a perfect beer to share with others after a long day on the lake. Hazy, easy to drink, and refreshing- we'll meet you at the dock.
Minnegose - Gose 15 IBU, ABV 4.4%
A light wheat German Ale brewed with coriander and Himalyan sea salt.A lazy afternoon, a favorite fishing hole and a classic beer. For too many it's "I don't know how you live there," but for us it is "I don't know why you'd live anywhere else.
SMALL BATCHES – Made on our pilot system 3.5bbls (7 kegs at a time!)
Double UP IPA- IBU 80, ABV 7.9% (12oz pour)
Take an India Pale Ale and feed it steroids, ergo the term Double IPA. Although open to the same interpretation as its sister styles, you should expect something robust, malty, alcoholic and with a hop profile that might rip your tongue out. The Imperial usage comes from Russian Imperial stout, a style of strong stout originally brewed in England for the Russian Imperial Court of the late 1700s; though Double IPA is often the preferred name.
Blood Orange Tart Sour – IBU 5, ABV 4.2% (12oz pour)
A wonderful introduction to sour beers with a blood orange kick!  This dry hopped kettle sour has a great tart blood orange punch with a pleasant sweet finish. The dry hopping makes this sour a favorite for both sour, cider, and ale drinkers. A great addition to the warming MN weather.
Amber Jack – IBU 18, ABV 4.2 
An easy drinking, low hopped and malty beer. Amber Jack is malt forward which gives this amber ale a bold flavor while maintaining its sessionable qualities. A full flavored beer with a low ABV that will leave you asking for another!
Gideon's Red Ale- 45 IBU, ABV 5.6%
Named for 1800's Excelsior-area farmer Peter Gideon (and therefore a bay in Lake Minnetonka), the first to develop a variety of apple resistant to the MN winters- this bright hopped up Red has a citrusy nose, slight bitterness, with refreshing crisp and zesty flavors.
Woodrift Belgian Quad – IBU 19, ABV 8.5  (12oz pour) 
Our friend and taproom regular, Jerry, has helped us create and brew this one of a kind Belgian Quad. Vienna, munich, and blend of dark roasted malt paired with amarillo hops, 10 lbs of blackened raisins, homemade rock candi sugar and Belgian abbey yeast. Full bodied with a rich malty palate. Nothing better than having those that support us have a hand in creating new and exciting beers to share with our guests.
Coming Soon
Smash Beer
Kolsch
Berliner Weisse
Crimson Clover Hoppy Red Ale
Ginger Peach Sour
Maibock
 Growler & 750ml List
Growlers To Go Are Available on Sundays
 Updated 12/29/15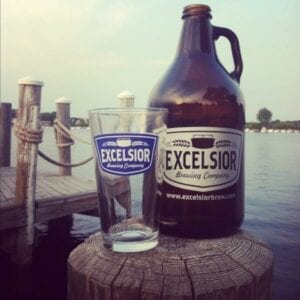 Growlers 
Big Island Blond Ale $12
Bridge Jumper IPA $15
XLCR American Pale Ale $12
Bitteschlappe Brown Ale $15
Kolsch $12
Shattered Solstice Ale $10
Gideon's Red Ale $15
Double UP IPA $15
750ml Bomber
Mr. Jimmy $10
Woodrift Belgian Quad $10
*Note that we only fill Excelsior Brewing Company growlers.   Thank you for understanding! If you do not bring in an empty EBC growler you must buy the growler glass for $5.00.*
*The glass is NOT a deposit- you are buying it. If you no longer want the glass and it is in good condition we MAY exchange it for a free pint card- good for any $5 or $6 pint!*
*We may run out of some styles- we recommend coming early in the week if you have your eye on a specific style.*