On Tap…..
Flagship  Beers  (Available Year Around)
Big Island Blond Ale- 33 IBU, 5.5% ABV
A light-bodied, approachable ale with a perfect balance of malt and hops, accented by a subtle citrus flavor and aroma.  The perfect every day beer.  A patio pounder.
Soft & biscuity
Smooth without harsh bitterness
Moderate citrus hop flavor
Easy drinking, approachable
Bridge Jumper IPA- 67 IBU, 7.5% ABV
A malt-forward IPA dry hopped with a shipload of raw, whole hops. This IPA defines "extreme balance". Malty sweetness on the front end with a huge hop bitterness to finish clean.
Hints of Papaya, Passion fruit, lots of floral hops
Dry hopped with nearly ½lb of Chinook hops per keg
Nice hop bite with no sharp, lingering bitterness
Smooth mouth feel
Bitteschlappe Brown Ale- 25 IBU, 6.8% ABV
Our traditional Munich-style brown ale features a medium body, with brisk carbonation and a malty sweetness that carries the beer to a soft finish.
Medium-bodied, smooth, dark ale
Flavors of caramel, toffee, and cocoa in the finish
Robustly malted with lots of Vienna malt, lightly hopped with German hops
Very easy drinking—brown is a color, not a flavor
XLCR American Pale Ale- 50 IBU, 5.8% ABV- Now with ALL American Hops!
An amber-colored American pale ale that combines a moderate, pleasant floral hop aroma with a satisfying malt sweetness from specialty malts.
Substantial malt presence
Beautiful flavorful body and floral/hoppy nose
Refreshing, with the malt balancing the hop bite
Moderate mouthfeel
Seasonal Beers  – Larger batches made once per year
Lumpy's Lager ABV – IBU 18, ABV 5.5% 
Minnesota's own Tim "Lumpy" Herron has proven he's an everyman, bringing fan's enthusiasm & a focus on fun to the game of golf. His tribute lager matches his personality, combining simple ingredients into an approachable American original. Lumpy's Lager pairs perfectly with an eagle or a birdie & even tastes great with a bogey.
Rip Rap Peanut Butter Stout – IBU 18, 5.6% ABV 
With just the slightest hint of roasted nuttiness this stout does not overwhelm the pallet with sweetness. Hints of dark chocolate shine through on this full bodied brew. Both seasoned beer drinkers and newbies rejoice! Who doesn't like a little candy with their beer?  BEING BREWED~WILL BE AVAILABLE END OF JUNE
Dragon Fruit IPA – 47 IBU, ABV 6.7% 
2 pounds of lactose per barrel is sure to make this the smooth, creamy milkshake IPA you are looking for. Mandrina & Chinook hops give the assertive nose we love in an IPA along with the sweetness of Dragon Fruit to make for a well-balanced brew.  
A Day at the Peach Kettle Sour – 5 IBU, 4.5% ABV  
This kettle soured ale is brewed with fresh peach & ginger adding to its light and tart profile. The effervescence and low IBU makes this brew a perfect year round sour.   
Minnehahop- 63 IBU, 6.0% ABV
Minnehahop IPA is appealing for both hop heads and light IPA drinkers alike. Fresh and citrusy aromas of pineapple, lemon/lime, passion fruit & mango finishing with just a touch of caramel sweetness, like a dusting of toasted coconut. Quenching and bright.
Excelsior Golden Ale – 20 IBU, 5.2% ABV
After several stabs at developing a recipe they liked, Excelsior's brewers finally found what they were looking for; a golden ale bold enough to provide a counterpoint to our flagship beer, Big Island Blond. Select hop varieties and brewing techniques produce an ale that is packed with flavor but not very bitter. Minnehaha Golden Ale combines the refreshment of lager with the hoppier, more citrusy qualities of ale. A pint worth coming back to! 
Maibock – 35 IBU, 6.7% ABV
Maibock is the lightest of the bock beers, with ours featuring a medium body, is unfiltered and has a mild toasty aroma. We brewed this in celebration for our Maifest on May 11th and May 12th. Customarily served in spring to celebrate the great winter thaw, lake lovers celebrate the Ice Out! 
Cross Czech Pilsner -35 IBU, 5.5% ABV
Slightly bittered with Northern Brewer hops and flavored with traditional German hop, this light and crisp pilsner is a perfect thirst quencher in any season. This brew is a great choice for the light beer drinker as well as those who appreciate a true pilsner.  Light bodied with a light straw hue. 
Coming Soon:
Sunburn Cherry Wheat
MinneGose
Helio Hefeweizen
Hand Crafted Sodas
- Big Reggies Rootbeer – Classic as the danceland.   Smooth as the Stones.
- Fun House Grape Soda
Growler & 750ml List

 (Available Tuesday thru Sunday)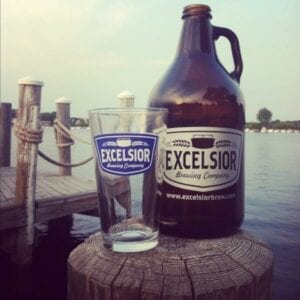 Growlers 
Big Island Blond Ale $12
Bridge Jumper IPA $12
Bitteschlappe Brown Ale $15
Minnehahop IPA $15
Golden Ale $12
Dragon Fruit IPA $15
Maibock $12
750 BOMBERS
A Day at the Peach Sour $8
Rip Rap Peanut Butter Stout $10
*Note that we only fill Excelsior Brewing Company growlers.   Thank you for understanding! If you do not bring in an empty EBC growler you must buy the growler glass for $5.00.*
*The glass is NOT a deposit- you are buying it. If you no longer want the glass and it is in good condition we MAY exchange it for a free pint card- good for any $5 or $6 pint!* ($5.00 growler charge is sales tax included)
*We may run out of some styles- we recommend coming early in the week if you have your eye on a specific style.*