On Tap…..
Flagship  Beers  (Available Year Around)
Big Island Blond Ale- 33 IBU, 5.5% ABV
A light-bodied, approachable ale with a perfect balance of malt and hops, accented by a subtle citrus flavor and aroma.  The perfect every day beer.  A patio pounder.
Soft & biscuity
Smooth without harsh bitterness
Moderate citrus hop flavor
Easy drinking, approachable
Bridge Jumper IPA- 67 IBU, 7.5% ABV
A malt-forward IPA dry hopped with a shipload of raw, whole hops. This IPA defines "extreme balance". Malty sweetness on the front end with a huge hop bitterness to finish clean.
Hints of Papaya, Passion fruit, lots of floral hops
Dry hopped with nearly ½lb of Chinook hops per keg
Nice hop bite with no sharp, lingering bitterness
Smooth mouth feel
Bitteschlappe Brown Ale- 25 IBU, 6.8% ABV
Our traditional Munich-style brown ale features a medium body, with brisk carbonation and a malty sweetness that carries the beer to a soft finish.
Medium-bodied, smooth, dark ale
Flavors of caramel, toffee, and cocoa in the finish
Robustly malted with lots of Vienna malt, lightly hopped with German hops
Very easy drinking—brown is a color, not a flavor
XLCR American Pale Ale- 50 IBU, 5.8% ABV- Now with ALL American Hops!
An amber-colored American pale ale that combines a moderate, pleasant floral hop aroma with a satisfying malt sweetness from specialty malts.
Substantial malt presence
Beautiful flavorful body and floral/hoppy nose
Refreshing, with the malt balancing the hop bite
Moderate mouth feel
Seasonal Beers  – Larger batches made once per year
 Docktoberfest – 30

 IBU, 6.2% ABV
An Amber lager brewed with authentic German malts and hops. Marzenbier was first brewed in Bavaria to be stored to last through the seasonal brewing drought. Similarly Minnesotans enjoy it each autumn as we build some final warm-weather boating memories to last us until ice-out. 
Portside Pilsner – 35 IBU, 5.6% ABV
Port Side, the left side of your vessel. Give way to those on starboard.  The Pilsner beer was first brewed in Bohemia, a German-speaking province in the old Austrian Empire. Pilsner is one of the most popular styles of lager beers in Germany, and in many other countries. Our classic German Pils is light golden and has a dense, rich head. Brewed using Noble hops, the beer exhibits a spicy, floral aroma and flavor.
Saucy Kate Kolsch– 24 IBU, 5.4% ABV  

Kolsch beers are typically golden, top-fermented style native to Köln, Germany. The traditional Kolsch style beer has a clean, dry flavor profile with moderate bitterness and high effervescence. The boat "Saucy Kate" was built in 1876 for Captain Charles May of Excelsior. Saucy Kate proudly traveled Lake Minnetonka as part of the Lake Minnetonka Transportation Company until 1899.
Helios Hefeweizen – IBU 18, ABV 5.6%
Brewed in the traditional German style Helios has a pale golden hazy hue accompanied by aromas of bananas, clove, and orange. Helios is an unfiltered hefeweizen seemingly made to be drank on a warm summer day. Low bitterness along side the sweet refreshing tartness of this wheat beer will surely quench your thirst!
Biscuit Pants 2017 – New England IPA  56 IBU, 6.5% ABV 
Low flocking British yeast strain. Brewed with ALS experimental hop blend, wheat and oats. Juicy nose with an assertive hop flavor complimented with the strong malt backbone due to the wheat and oat addition. 27lb hop addition to 20bbl batch.  A hoppy brew named after the billowy pants worn by Lou Gehrig. This New England IPA is fermented with low flocking British yeast and hopped up with the experimental ALS hop blend as part of the Ales for ALS program we are so proud to be part of. EBC will donated $.50 from every pint you raise to ALS research. Now in its fifth year, Ales for ALS has raised over $1,250,000.
Milfoil Lake House Saison – 23 IBU. 5.6% ABV 
Brewed with French saison yeast, local eurasian milfoil (yes for real) and Minnetonka Gold Honey. A smooth medium bodied saison with herbal and spicy notes.
Lumpy's Lager- 18 IBU,  5.5% ABV 
Minnesota's own Tim "Lumpy" Herron has proven he's an everyman, bringing fan's enthusiasm & a focus on fun to the game of golf. His tribute lager matches his personality, combining simple ingredients into an approachable American original. Lumpy's Lager pairs perfectly with an eagle or a birdie & even tastes great with a bogey. Pint $6 / 9 oz. $4
Scofflaw Russian Imperial Stout- 75  IBU, 10.6% ABV
This beer named after the Prohibition term for someone who drank illegally (scoffing the law) has a deep rich roast flavor, a bit dry and sure to please. Notes of dark fruit including plum, roasted nuts, and a full body.  
Big Raft Graff Dry Hopped Cider Beer – 8 IBU, 5.9% ABV 
Ale brewed with locally pressed apple cider. This brew is slightly effervescent with light body and a tart finish. Reminiscent of cool fall Minnesota days.  
Spresso Coffee Milk Stout- 25 IBU, 4.6% ABV 
Made with coffee from UP Coffee Roasters this brew has the nose of a chocolate covered espresso bean. Let it pour over your tongue as notes of espresso and dark chocolate tantalize your taste buds. This one is NOT to be missed! Coffee lovers, chocolate lovers, beer lovers- everyone will love this brew. 
Coming Soon:
Oarlock Oat Stout
BerlinerWeisse
Shattered Solstice Ale
Hand Crafted Sodas
- Big Reggies Rootbeer – Classic as the danceland.   Smooth as the Stones.
- Cyclone Citrus – Lemon meets lime, and a touch of ginger for zing
- Orange Cream Sherbert Soda
Growler & 750ml List

 (Available Tuesday thru Sunday)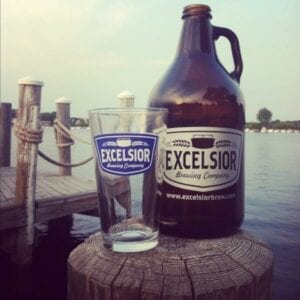 Growlers 
Big Island Blond Ale $12
Bridge Jumper IPA $15
XLCR American Pale Ale $12
Bitteschlappe Brown Ale $15
Sunburn Cherry Wheat $15
Helios Hefeweizen $15
Docktoberfest $15
Dry Hopped Graff Apple Ale $12
GROWLER SPECIALS!
Portside Pilsner $10
750 BOMBERS
Biscuit Pants New England IPA $8 ($1 per bomber to ALS Research)
*Note that we only fill Excelsior Brewing Company growlers.   Thank you for understanding! If you do not bring in an empty EBC growler you must buy the growler glass for $5.00.*
*The glass is NOT a deposit- you are buying it. If you no longer want the glass and it is in good condition we MAY exchange it for a free pint card- good for any $5 or $6 pint!*
*We may run out of some styles- we recommend coming early in the week if you have your eye on a specific style.*