On Tap…..
Flagship  Beers  (Available Year Around)
Big Island Blond Ale- 33 IBU, 5.5% ABV
A light-bodied, approachable ale with a perfect balance of malt and hops, accented by a subtle citrus flavor and aroma.  The perfect every day beer.  A patio pounder.
Soft & biscuity
Smooth without harsh bitterness
Moderate citrus hop flavor
Easy drinking, approachable
Bridge Jumper IPA- 67 IBU, 7.5% ABV
A malt-forward IPA dry hopped with a shipload of raw, whole hops. This IPA defines "extreme balance". Malty sweetness on the front end with a huge hop bitterness to finish clean.
Hints of Papaya, Passion fruit, lots of floral hops
Dry hopped with nearly ½lb of Chinook hops per keg
Nice hop bite with no sharp, lingering bitterness
Smooth mouth feel
Bitteschlappe Brown Ale- 25 IBU, 6.8% ABV
Our traditional Munich-style brown ale features a medium body, with brisk carbonation and a malty sweetness that carries the beer to a soft finish.
Medium-bodied, smooth, dark ale
Flavors of caramel, toffee, and cocoa in the finish
Robustly malted with lots of Vienna malt, lightly hopped with German hops
Very easy drinking—brown is a color, not a flavor
XLCR American Pale Ale- 50 IBU, 5.8% ABV- Now with ALL American Hops!
An amber-colored American pale ale that combines a moderate, pleasant floral hop aroma with a satisfying malt sweetness from specialty malts.
Substantial malt presence
Beautiful flavorful body and floral/hoppy nose
Refreshing, with the malt balancing the hop bite
Moderate mouth feel
Seasonal Beers  – Larger batches made once per year
Docktoberfest – 30 IBU, 6.2% ABV- 
An Amber lager brewed with authentic German malts and hops. Marzenbier was first brewed in Bavaria to be stored to last through the seasonal brewing drought. Similarly Minnesotans enjoy it each autumn as we build some final warm-weather boating memories to last us until ice-out. 
Helios Hefeweizen – IBU 18, ABV 5.6%
Brewed in the traditional German style Helios has a pale golden hazy hue accompanied by aromas of bananas, clove, and orange. Helios is an unfiltered hefeweizen seemingly made to be drank on a warm summer day. Low bitterness along side the sweet refreshing tartness of this wheat beer will surely quench your thirst!
Scofflaw Russian Imperial Stout- 75  IBU, 10.6% ABV
Scofflaw – Named after the lawless drinker whom "scoffed at the law" while imbibing during the prohibition.   The beer has a deep, sweet malt backbone with dark fruit under tones that sustain and linger thru the mellow hop bitterness.   Silky smooth mouthfeel with a wonderful warming effect.
Spresso Coffee Milk Stout- 25 IBU, 4.6% ABV 
Made with coffee from UP Coffee Roasters this brew has the nose of a chocolate covered espresso bean. Let it pour over your tongue as notes of espresso and dark chocolate tantalize your taste buds. This one is NOT to be missed! Coffee lovers, chocolate lovers, beer lovers- everyone will love this brew. 
Oarlock Oat Stout- On Nitro! – 22 IBU. 6.6% ABV
This beer is named after the device on a row boat that keeps the oars in place, ensuring a straight path for the operator. Oar Lock Oat Stout aims to do the same thing with the drinker's palate. It features a great roasty flavor, with subtle dark chocolate and a very light smokiness. The oats give this beer a very dry finish and a hearty mouthfeel. Although it's not a bitter beer, it balances out the big malt flavor just perfectly. 
Shattered Solstice Ale - 15 IBU, 6.5% ABV 
A worldly inspired, locally desired spiced Amber Ale to celebrate the return of longer days. Ginger (India), orange peel (Spain), coriander (Turkey), Egyptian Chamomile Flower and Belgian Candi Sugar create a robust spiced ale that will warm you up and shatter your expectations. 
Ginger Peach Kettle Sour – 5 IBU, 4.5% ABV  
This kettle soured ale is brewed with fresh peach & ginger adding to its light and tart profile. The effervescence and low IBU makes this brew a perfect year round sour.   
Row-bust Porter – 38 IBU, 5.8% ABV
Dark-Brown color. Mild aromas and flavors of dried tropical fruits, melted toffee,and brown sugar with a dryish light-to-medium body and a smooth drinkability. The cold weather is here and this is certainly a winter warmer. 
ExperimentAle #1 – 81 IBU, 5.2%
We are working on our session IPA game. Let us know what you think? One of the IPA's from the ExperimentAle project will end up on our brand calendar next year. This one is packed full of hoppy goodness. Mosaic, Sorachi Ace and Citra hops added in mass quantities to this floral yet drinkable IPA.
Coming Soon:
BerlinerWeisse
Peanut Butter Stout
Golden Ale
Hand Crafted Sodas
- Big Reggies Rootbeer – Classic as the danceland.   Smooth as the Stones.
- Cyclone Citrus – Lemon meets lime, and a touch of ginger for zing
- Orange Cream Sherbert Soda
Growler & 750ml List

 (Available Tuesday thru Sunday)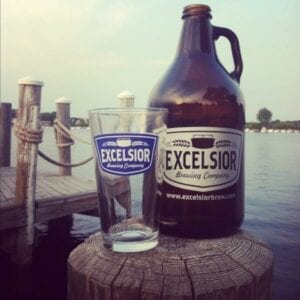 Growlers 
Big Island Blond Ale $12
Bridge Jumper IPA $15
XLCR American Pale Ale $12
Bitteschlappe Brown Ale $15
Spresso Coffee Milk Stout $15
Shattered Solstice Ale $12
Double UP IPA $15
GROWLER SPECIALS!
Portside Pilsner $10
Helios Hefeweizen $8
750 BOMBERS
Scofflaw Russian Imperial Stout (in waxed dipped bottle) $15
West Side Barely Wine $8
Ginger Peach Sour $12
*Note that we only fill Excelsior Brewing Company growlers.   Thank you for understanding! If you do not bring in an empty EBC growler you must buy the growler glass for $5.00.*
*The glass is NOT a deposit- you are buying it. If you no longer want the glass and it is in good condition we MAY exchange it for a free pint card- good for any $5 or $6 pint!* ($5.00 growler charge is sales tax included)
*We may run out of some styles- we recommend coming early in the week if you have your eye on a specific style.*