Growlers To Go Are Available on Sundays
FLAGSHIP BEERS  (Available Year Around)
Big Island Blond Ale- 33 IBU, 5.5% ABV
A light-bodied, approachable ale with a perfect balance of malt and hops, accented by a subtle citrus flavor and aroma.  The perfect every day beer.  A patio pounder.
Soft & biscuity
Smooth without harsh bitterness
Moderate citrus hop flavor
Easy drinking, approachable
Bridge Jumper IPA- 67 IBU, 7.5% ABV
A malt-forward IPA dry hopped with a shipload of raw, whole hops. This IPA defines "extreme balance". Malty sweetness on the front end with a huge hop bitterness to finish clean.
Hints of Papaya, Passion fruit, lots of floral hops
Dry hopped with nearly ½lb of Chinook hops per keg
Nice hop bite with no sharp, lingering bitterness
Smooth mouth feel
Bitteschlappe Brown Ale- 25 IBU, 6.8% ABV
Our traditional Munich-style brown ale features a medium body, with brisk carbonation and a malty sweetness that carries the beer to a soft finish.
Medium-bodied, smooth, dark ale
Flavors of caramel, toffee, and cocoa in the finish
Robustly malted with lots of Vienna malt, lightly hopped with German hops
Very easy drinking—brown is a color, not a flavor
XLCR American Pale Ale- 50 IBU, 5.8% ABV- Now with ALL American Hops!
An amber-colored American pale ale that combines a moderate, pleasant floral hop aroma with a satisfying malt sweetness from specialty malts.
Substantial malt presence
Beautiful flavorful body and floral/hoppy nose
Refreshing, with the malt balancing the hop bite
Moderate mouth feel
OFF SHORE SERIES (Seasonal's) - Larger batches made once per year
Mr. Jimmy's Baltic Porter – 23IBU, 7.8%  (12oz pour)
In honor of Jimmy Hutmaker, Excelsior's legendary ambassador, we made a traditional Baltic porter, conditioned on cherry wood. Brewed with licorice root, this beer features a pleasant sweetness, blending perfectly with the wood flavor, making this a perfect autumn beer.
Shattered Solstice Ale – 15 IBU, ABV6.5%
A worldly inspired, locally desired spiced Amber Ale to celebrate the return of longer days. Ginger (India), orange peel (Spain), coriander (Turkey), Egyptian Chamomile Flower and Belgian Candi Sugar create a robust spiced ale that will warm you up and shatter your expectations.
'Spresso Coffee Milk Stout- 25 IBU, 4.6% ABV
Made with coffee from UP Coffee Roasters this brew has the nose of a chocolate covered espresso bean. Let it pour over your tongue as notes of espresso and dark chocolate tantalize your taste buds. This one is NOT to be missed! Coffee lovers, chocolate lovers, beer lovers- everyone will love this brew.
SMALL BATCHES – Made on our pilot system 3.5bbls (7 kegs at a time!)
IP-Ayyy – IBU 72, ABV 7.9% (12oz pour)
Hop heads and Fonzie lovers rejoice- using the process of adding hops each minute for almost 2 hours this brew is hoppy, smooth and medium bodied with a robust ABV. The process smooths out that hop flavor we all love and seek.
Cross Czech Pilsner IBU 35, ABV 5.5%
Slightly bittered with Northern Brewer hops and flavored with traditional German hop, this light and crisp pilsner is a perfect thirst quencher in any season. This brew is a great choice for the light beer drinker as well as those who appreciate a true pilsner.  Light bodied with a light straw hue.
Bridge Jumper on Nitro – 67 IBU, 7.5% ABV
Same flagship Bridge Jumper you know and love but pushed with nitrogen to create a creamy mouthfeel with a beer that slowly cascades through your pint.
Chai Kolsch – ABV 5.2% IBU 18
Kolsch beers are typically golden, top-fermented style native to Köln, Germany. The traditional Kolsch style beer has a clean, dry flavor profile with moderate bitterness and high effervescence. The brewers at Birch's on the Lake and Excelsior Brewing Company decided to stray from tradition and spice it up a bit! Sweet and spiced, featuring hints of cinnamon, pepper, cardamom and ginger this light and sessionable Kolsch is pleasantly surprising.
Scofflaw Russian Imperial Stout-  IBU 75,  ABV 10.6%
This beer named after the Prohibition term for someone who drank illegally (scoffing at the law) has a deep rich roast flavor, a bit dry and sure to please. Notes of dark fruit including plum, roasted nuts, and a full body. We encourage you to stop by and try this new beer on tap! This beer takes winter warmer to a whole new level.
Row-Bust Porter – IBU 38, ABV 4.8%
Dark-Brown color. Mild aromas and flavors of dried tropical fruits, melted toffee, clay, and brown sugar with a supple, frothy, dryish light-to-medium body and a smooth, engaging, medium-length finish with accents of nut brittle, mocha cream, sprouts, and green coffee. A very nice porter with high drinkability.
Gideon's Red Ale- 5.6%, 45 IBU
Named for 1800's Excelsior-area farmer Peter Gideon (and therefore a bay in Lake Minnetonka), the first to develop a variety of apple resistant to the MN winters- this bright hopped up Red has a citrusy nose, slight bitterness, with refreshing crisp and zesty flavors.
Peanut Butter Stout 5.6% IBU 33
With just the slightest hint of roasted nuttiness this stout does not overwhelm the pallet with sweetness. Hints of dark chocolate shine through on this full bodied brew. Both seasoned beer drinkers and newbies rejoice! Who doesn't like a little candy with their beer?
EBC Kolsch – ABV 5.4% IBU 24
Kolsch beers are typically golden, top-fermented style native to Köln, Germany. The traditional Kolsch style beer has a clean, dry flavor profile with moderate bitterness and high effervescence.
Coming Soon
Primo Red IPA
Citra Tart
 Growler & 750ml List
Growlers To Go Are Available on Sundays
 Updated 12/29/15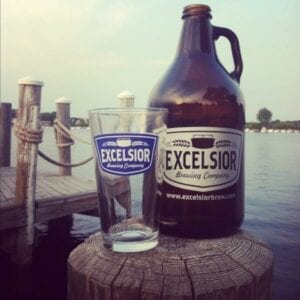 Growlers 
Big Island Blond Ale $12
Bridge Jumper IPA $15
XLCR American Pale Ale $12
Shattered Solstice Ale $10
Chai Kolsch $10
750ml Bomber
Shattered $8
Mr. Jimmy $10
Scofflaw $15
*Note that we only fill Excelsior Brewing Company growlers.   Thank you for understanding! If you do not bring in an empty EBC growler you must buy the growler glass for $5.00.*
*The glass is NOT a deposit- you are buying it. If you no longer want the glass and it is in good condition we MAY exchange it for a free pint card- good for any $5 or $6 pint!*
*We may run out of some styles- we recommend coming early in the week if you have your eye on a specific style.*