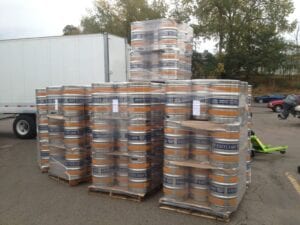 Look at that beautiful sight. 200 kegs…all customized…ready to be filled with beer. Such a great thing to see on a Friday morning, we couldn't be more excited!
For those who came out to Taste of the Lakes last night, you already know how awesome of an event it was. For those that didn't, you truly missed out. Raising funds for the ICA Foodshelf and WeCAN, dozens of local restaurants and a certain local brewery came out swinging with great food and great beer. The hospitality by Bayview Event Center was outstanding, they did a wonderful job of putting it all together. It was a pleasure to meet so many folks for the first time and see some familiar faces in the crowd as well.
Last night also marked our first ever tapping of a Firkin in the taproom! We had some XLCR, dry hopped with Target hops, waiting in the cooler for the right time to bust it out. We figured last night was as good as any, and within hours, the Firkin was cashed out. After tasting the smooth texture and smelling the delicious hop aroma, I can certainly see why it was gone so quickly. We cannot wait to make that a staple in the taproom going forward, stay tuned for more details about 'Operation Firkin'.
We're only a few weeks out from our Oktoberfest, to be held at the brewery on October 13th from 12-9. Starting to put together the overall logistics but it's safe to say, there will be a lot of beer flowing…
Swing on out to the taproom tonight for some XLCR, Big Island Blond and Bitteschläppe! Can't wait, see you then!