With mustache-free faces, we would like to say thank you to everyone who donate or supported our time during the Movember fundraising season. With your contributions and our facial hair, we raised over $2,000 for prostate and testicular cancer research initiatives! Everything from explaining why we looked so manly, to hosting The Life Time Agency's Movember Awards, to donating a keg to the 'Stache Bash' at the Blue Nile were great for us to take a step towards eliminating disease that affects all of us in some way. Be ready. November 1, 2013…we will be back with the 'stache
On an awesome note, we were fortunate enough to have Jared Allen swing by the brewery and show some love to taproom attendees. Owner of a brewpub himself (Praying Monk, AZ), the man knows his beer. After swinging in for a couple pictures and MASSIVE handshakes, we were left with the awesome picture below. Such a classy dude, glad we had the chance to have him in and can safely say he is welcome back whenever he wants.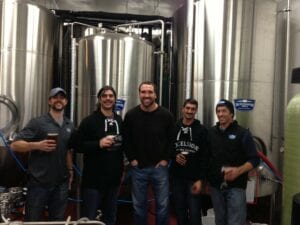 THIS WEEK: For those in the taproom, we will be going through what is most likely our last few kegs of Mr. Jimmy's Baltic Porter. If you haven't already, make sure to come in and get a taste of this beer before it's gone! Fear not, we have plenty of other beer in the taproom. From our standards (XLCR Pale Ale, Big Island Blond, Bitteschlappe Brown Ale) to a newcomer (Shattered Solstice Ale) and a soon-to-be staple (oat stout – out in 2 weeks).
If you're free on Thursday night, make sure to get yourself down to Pig and Fiddle for one of the coolest beer dinners you'll ever see. 4 courses, 4 breweries, 1 night of awesomeness. We are partnering with Lift Bridge Brewery in Stillwater, Indeed Brewing of Minneapolis and Rush River Brewing from River Falls to put on a unique dinner. Our beer (Bitteschlappe Brown Ale) is featured with the main course, but you know the other dishes will be stellar as well. Tickets are $40/each and include food and beer. Call now, there are only a few tickets left!
Hope to see everyone in the taproom this weekend. Until then, cheers!