When we started planning out our brewery, the most important idea that we always come back to is supporting our community. Being a local brewery intended in taking care of those who support us, a lot of thought went into the ways we can make our area better, through both our beer and our actions. Thanks to the Heart Association of MN matching donations that we collected in our taproom for our local ICA Foodshelf, we were able to raise over $1,000 in the month of July! One of the most important and helpful groups in our area, the ICA provides assistance to folks struggling to get something as basic as food and we're proud to work with them in their cause. Thank you to everyone who donated in the taproom, your money is going to a great cause.
On that note, we've also been able to raise over $1,400 in silent auctions and donations throughout our first month, going to children's cancer research, local non profits and other foundations doing work locally in the community.
Between the chaos of opening a brewery, brewing enough beer and running a taproom, we're psyched that we still have been able to help out these awesome organizations so far. A brewery is a powerful thing to have, and so far our taproom and tours have really helped us promote and fundraise with some wonderful people. Thanks to those who have helped make our launch a success and who have donated to the various groups so far!
We will be announcing some very promising local partnerships in the near future so stay tuned!
TAPROOM:  Last night was a helluva Thursday, with a great crowd and plenty of beer flowing. For those who have yet to visit (shame on you!), Jenga has become our staple taproom competition. Things get pretty tense once in a while, good thing there's beer to alleviate some of that stress! But since everyone has stepped up their Jenga skills, we figured we should step up ours. I present to you, the Excelsior Brewing Party Pillar!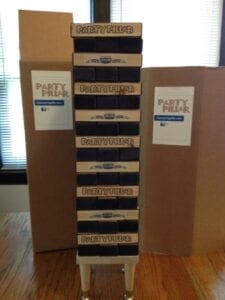 Unveiling this badboy tomorrow night in the taproom, be prepared. You have 1 week to strategize before our 1st annual Excelsior Brewing Co. Prestigious Party Pillar Olympics. In honor of the closing ceremony of the London games next week, we will have a tourney going Saturday afternoon to determine the ultimate champion! Details to follow this week, check in to Facebook for updates and signup. You know we'll have some nice prizes for the winner so this is not to be missed out on!
Taproom is open 4-10 tonight and 2-10 tomorrow, let's finish the week strong and celebrate with a beer. Cheers!