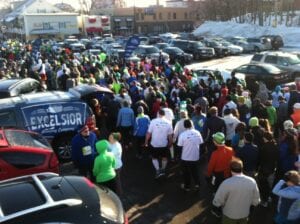 By now, everyone has (hopefully) recovered from the past weekend and the festivities that come along with St. Patrick's Day. In case you weren't at the brewery, let me quickly recap what you missed out on:
– Over 500 folks took off from the brewery on the Luck o' the Lake 5k run. The winner finished in roughly 17 minutes, motivated by the thought of coming back to the brewery for a celebratory beer.
– Irish Elvis knocked the doors off with a SICK performance, setting the tone for the rest of the night
– Copious amounts of beer were consumed throughout the day, making the Giant Jenga games that much more entertaining
– Chris Kelly, yes THE Chris Kelly, made an impromptu appearance Saturday night and showed off some serious musicianship.
St. Patrick's Day was, is, and always will be, my favorite holiday. Thanks to everyone who came out to make our first one ever something special!
To recap last week, we headed over to our neighbors at Gold Nugget for a five-course beer dinner that was insanely tasty. Chef Eli worked his magic and put together some of the best pairings imaginable, complimenting our beers perfectly. My personal favorite was the Beer Battered Lobster with Big Island Blond Ale, but it's not easy picking a favorite at this point. Thanks to everyone involved, both attendees and staff, for putting on a great dinner. We cannot wait to come back again this summer and hopefully do it again!
Next week, Niles and Ben will be heading to Washington D.C. for the 2013 Craft Brewer's Conference. Ben will be live blogging from seminars, events and the after party's to keep everyone up to date on the state of our Craft Brewing industry. Most importantly, we will be showcasing our Barrel Aged Spruce Beer, aptly named "George's Wooden Teeth Spruce Beer", at the Amber Waves event, sponsored by Dogfish Head and Victory Brewing. We are one of 25 breweries selected, head to amberwavesevent.com for more information.
Moving forward, we will have a couple VERY exciting beer related announcements to stay tuned to our Facebook page for real time updates as to what's coming out.
Follow us at facebook.com/excelsiorbrew and on twitter @excelsiobrew.
keywords: MN Beer, Gold Nugget, Luck o' the Lakes, St. Patrick's Day, Amber Waves