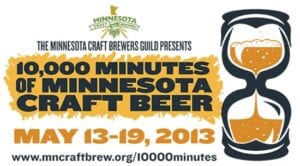 Happy American/MN Craft Beer Week! Basically, the greatest week all year, this gives everyone a chance to celebrate our local (and national) beer community.
Know somebody who always wanted to start drinking craft, but didn't know where to start? Take this opportunity to show them some of your favorite local breweries! Want to drink some rare and new beers? Check out all the local tappings taking place across the state!
We will be celebrating a couple different ways this week. First up, Pittsburgh Blue in Maple Grove for their patio kickoff and our Helios Hefeweizen release! Enjoy the summer evening with a couple seasonal beers, including the Sunburn Cherry Wheat!
If you can swing an afternoon off on Friday, head out to Deer Run Golf Course in Victoria, MN. We'll be hosting their Funplay Friday, pouring beer on the 4th tee box and kicking off our partnership with happy hour specials in the clubhouse.
For the grand finale, the St. Croix River will see its first taste of Excelsior Brewing as we climb onboard one of Stillwater's historic paddleboats for the Brewer's Bazaar. If you live in the East Metro, this will be your first chance to have our beer on that side of town.
We hope everyone enjoys the hell out of a week celebrating local beer, make sure to drink responsibly and set a good example for those just learning about Craft Beer. Hope to see you this weekend, cheers!